Dear Ali,

I know you must be tired of me by now but what can I do, you are probably the only person I can speak my heart out to. I feel so lonely these days and even when I am with my family and friends, I feel totally alienated and detached from them. I don't feel as if I belong to those people who are such anti everything that is not Muslim. Not that I ever was one of them but now I feel if they know my true identity that I am not a Muslim anymore, they would hate me and probably disown me if not murder me.

I guess I can never be an apostate openly and I will have to pretend to be a Muslim rest of my life, at least till my parents are alive. The other day my mom telling me that why don't I go for Hajj with my brother and his wife next year since they are planning to go. My mom and dad have done their Hajj a few years ago, I did not go with them because I had always said I would go with my husband. Come to think of it, it was just an excuse because deep down inside I could never understand the logic behind it. Now my brother and his wife are planning to go next year and they told me since I am not married yet, its high time I get over with this vital religious obligation as soon as I can.. Now tell me how do I get out of this? Even my parents are insisting that I do hajj next year.. I don't want to do that, why should I spend my hard earned money on something I don't believe in anymore.

I am going thru such an emotional turmoil for the last few weeks, I first came across your website a month ago and then wrote to you on 23rd of last month and I still remember I stopped praying somewhere the end of last month. But I have been going thru a mixture of all kinds of emotions since then, sometimes I feel happy and liberated and then I feel scared that what if this is a test from God and I have gone astray for some time and maybe I will go back to being a Muslim. What if this is all a phase. But then I go back to your website and it motivates me again to be steadfast on this path that I have chosen.
I cry a lot these days, whenever I am alone, I just want to sit and ponder.. I am going thru such a difficult time that I feel I am going to have a nervous breakdown. Should I go and see a psychologist or psychiatrist? Do I need therapy? But then I have to make sure that the shrink I see is a non-Muslim. U wrote to an ex Muslim woman do not trust these Muslim doctors as their Islamic fundamentalism is much more important to them then some Hippocratic oath.. Right?

I want to write, I mean I wish I could have my own website and then write what I am going thru and what made me change. How I have always been a bad Muslim but a good human being.. But then living in this country, I cannot do this because sooner or later, they will block my site and I won't be able to access my own website.

I shall look forward to your reply.

Regards
Shakila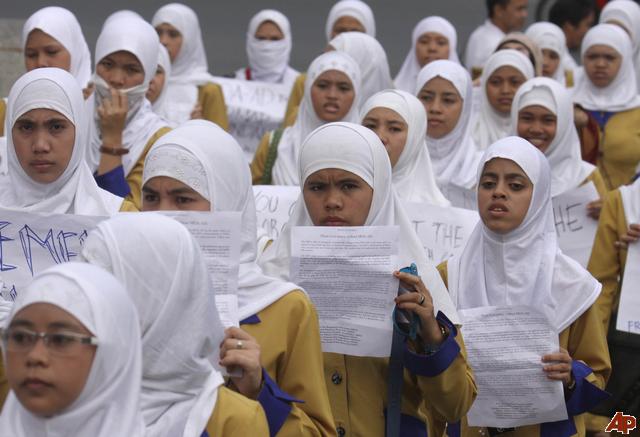 Dear Shakila,
Sorry I was late answering your previous email.  What you are going through is absolutely normal. I already mentioned this in my one article where I talked about my experience.  The false guilt, depres­sion, anxiety, fear, confusion, and anger are present in all those who leaves a cult.
Yes your parents are part of a cult. But so were you and I. This does not change the fact that they are your parents and you owe them filial loyalty and love.
There is a golden rule that I suggest you follow, any time in doubt as what you should do in any situation. Ask what Muhammad would have done and do the opposite. If you do that you will never go wrong.  What was Muhammad's advice in regards to siblings and parents who were unbelievers?  He said not to befriend them; to cut ties with them, not to associate with them (Q.3:28).   Well, do the opposite. Be loyal and loving to your parents and kin.  In any situation do the opposite of what Muhammad said and you can be sure that you are doing the right thing.
You said sometimes you think all this is a test and that you will eventually return to Islam. You will not. I tried for two years. I did everything I could to restore my faith. I prayed, I hid the Quran behind other books because it was the book that had jolted my faith and every time I saw it, all my doubts were renewed. But nothing worked. The more I tried the less I succeeded. That is why I made the analogy of coming out of the womb of ignorance. Once out I could no longer go back. Don't believe me? Try it.  Do your best to restore your faith. You will see that it is impossible.  Just give it a time and all your doubts will go away and you will be at peace with your enlightenment.
In your previous email you said you'd like to read the Bible. It is a good idea.  It is banned in your country but you can find it online.  I did the same at first and I even attended a church for a couple of years.  I did it mostly to socialize. I have a great respect for Jesus, but I can't believe in God. God makes no sense to me.  The more I ponder upon it the more the whole concept appears ludicrous and puerile.  However, I understand that not everyone can live without the belief in God.  And I also don't believe atheism is superior to theism.  For me it is just a philosophical choice.  I think fanatical atheists are just as bad as fanatical theists.  What you believe is irrelevant, what really counts is how you live your life.
If you don't fall into extremism, I think Christianity is a good choice.  Just be rational about it.  Jesus was not a fanatic. Learn Christianity from him and not from zealot Christians.
Keep your thoughts to yourself. There is no point in making a public announcement about your apostacy. There are millions of apostates that live like that. There is nothing wrong with it.  A time will come that the majority of Muslims will no longer believe and this edifice of lie with fall on its own. It will collapse like the twin towers of the WTC did.  I said it ten years ago.  You will see it happen.  Even though you may now think it is farfetched, you will see it with your own eyes.  This deception is over.  The world is waking up and Muslims will too.  We need a way to get our message to masses – to millions of people.  There is a way. The project is on its way.  Something is cooking and you'll hear about it soon.  Everyone will hear about it. That would be the end of Islam.
As for going to hajj, keep telling your parents the same thing you said to them always. Tell them you have made a vow that you will go to hajj as a married woman and you want to keep your word.   Don't throw your hard earned money in that country.  The more money the Saudis make the more they support Jihad, building of mosques and the spread of Islam.
There are psychologists that specialize in cult rehabilitation. You can find them online.  Avoid going to a Muslim shrink. He will not understand you as he is himself a cultist.  In fact he may give you more trouble.  You don't suffer from depression, you suffer disillusionment.  It will go away as you learn more.  See these sites.
http://www.csj.org/infoserv_articles/martin_paul_study_rehab_benefits.htm
www.win.tue.nl/~aeb/secul/landmark/forum.html
http://www.icsahome.com/infoserv_profile/wellspring_retreat_resource.asp
Search "cult rehabilitation" for more links.
Cheers
Ali
Follow up:  Shakila is finally free from Islam and she runs her own blog. Visit her here:
http://liberatednow.blogspot.com/