Proof of Soul: Why Science is Not the Ultimate Authority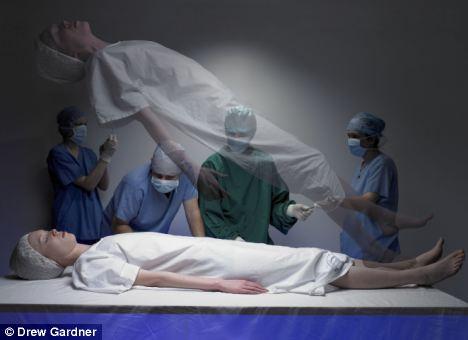 Hello Mr. Sina,

I'm an Agnostic Atheist Ex-Muslim. I've begun reading your posts on NDE, God and the Afterlife. They make a lot of sense to me and I think I may become a theist but I have a few questions for you before I do.

1. If I have a soul how does that fit in with evolution?

2. How can neurological disorders fit in with souls?

3. If there are souls, what is the purpose of the brain?

4. You make many large assumptions about God (eg. God is love); where is your evidence for these assumptions?

5. If our purpose is to experience existence why are there so many other planets out there? What about planets with no life, what is their purpose?

6. Are there other souls on those planets?

I love your concept of God but I am a skeptic. I need to ask these questions before I change my beliefs. I truly want to believe but before I do I must clear all my doubts.

Thank You,

– InsanelyUnoriginal
Before answering your questions I must make it clear that my goal is not to change anyone's beliefs. My own thoughts are constantly evolving. (That is the presumptuous way of saying changing.) Each person must find his or her own light. My only objective in writing is to eradicate Islam, not because it is a lie. There are countless spurious beliefs out there and I don't give a damn. Islam must be eradicated because it is the epitome of everything that is evil.
However, I answer questions that are not related to Islam if I believe them to be important. Your questions are important. It is not that I have answers, but by sharing my thoughts on them maybe it will encourage others to think critically at them.
Let us first cut this elephant into bite size morsels. First we have to make sure whether consciousness survives the death of the body. If it doesn't the visible world is all there is and no point to assume God exists. Everything is product of chance. That is what today's science says.
However, science is not the ultimate authority. The ultimate authority is observation. Any time science and observation clash, science must give in if it wants to remain science. When science is not supported by observation it is philosophy and when it contradicts it, it is fanaticism.
Take the examples of heliocentricity or evolution. In each case science had to give in to observation, albeit reluctantly and grudgingly, and reinvent itself in order to remain relevant.
Another example is the quantum world. It goes against our commonsense and everything we know about reality. When we observed the subatomic universe for the first time, we could not believe it or make sense of it. It could not be explained with our tested and proven Newtonian science. But we could not deny it either. It was right in front of our eyes. We had to devise an entirely new science for it.
What about reason? Is reason the ultimate authority? Not even reason! False ideas are often upheld by fallacious reasoning. Observation is the ultimate authority, not science and not reason.
Newtonian science is based on materialism. To avoid confusion, let us first agree on the definition of words we use. My definition of matter is anything that is composed of atom. Particles are not matter; they are energy. Matter and energy are interchangeable, like water and ice, but they are not the same. They have different properties.
Materialistic science cannot make sense of the behavior of particles. Yet we don't deny the phenomenon. Why? Because it is observable!
Can the independence of consciousness from brain be observed? If yes, we should not be concerned about science even if it cannot make sense of it. If atomic (materialistic) science is mute about subatomic world, why should we expect it to have any say in regards to consciousness? When something is observable and not explainable by science, the latter should simply get out of the way. Observation rules!
Now, is there any observational evidence that consciousness exists independent from brain? Yes, many! According to materialistic science, consciousness is a function of the brain. Therefore, when brain stops, consciousness must cease to exist. But we have evidence that it doesn't.
Since 1960s doctors have been able to resuscitate patients that are clinically dead. A great number of these people (one in every six) awaken with memories of leaving their bodies, hovering over the heads of the doctors operating on them, visiting other rooms in the hospital and reporting accurately what they heard and saw vividly when they were supposed to be unconscious and dead.
These claims are reported by people of all ages and cultures. They number in millions. If they were only a few, we could ignore them. We can ignore the reports of people claiming to have seen a Bigfoot. We can't categorically deny the existence of this humanoid, but since there are only a few hundred reports, it is possible that most of them are honest mistakes and some are hoaxes. We can't do that with NDE because they are millions of such reports.
(Not surprisingly, there are few claims of near death experience by Muslims. The reason is that Muhammad did not believe that soul survives the death of the body. He did not speak of soul at all. According to his eschatology, the dead remains in the grave until the Day of Resurrection when Israfil blows his horn and they will rise in their physical body to receive their judgment. Then the believers will go to heaven and the rest will go to hell. Muhammad will be the first to enter paradise. NDE proves Islam is false. Now I don't think that Muslims don't have NDE. They just don't report them, because, a) it shows Islam is false, and b) their experience may not be quite pleasant and heavenly. The few videos of Muslims claiming NDE are about those who say they saw Jesus and upon their awakening converted to Christianity.)
To refute out of body experience, materialists engage in all sorts of logical fallacies. One argument they present is that the brain of the unconscious is still capable of functioning. This claim is patently false. Instruments attached to the patient show their brain has zero activity. Are we supposed to believe that the patient with open heart surgery can see with close eyes and hear perfectly, even when their ears are plugged, but not feel any pain?
They also claim that since tests on astronauts undergoing gravities much greater than 1G report OBE when their brain is deprived of oxygen, we should then conclude that the OBE is a hallucination that happens when brain is deprived of oxygen. This is an absurd argument. To have a hallucination the neo-cortex has to be active. Without oxygen the neo-cortex is the first to stop working. How can a flat-lined brain that has no activity produce vivid and detailed coherent experiences? This is not science. It is hocus pocus. The materialists use scientific vocabulary but talk nonsense.
The argument is so unconvincing that even they can see it is absurd. So they argue that OBE is not generated when the brain is flat lined, but during the recovery, which the patient erroneously thinks happened during the death. This argument is also false. Some NDEs last only seconds and in this short time the person reports seeing things that require a book to describe. Nathalie Sudman was a civilian contractor in Iraq when her car was blown up by a roadside bomb in 2006. Her guard was killed, but she was injured and went out of her body for only three seconds. She wrote a book about it. In three seconds she had an experience that would generally take weeks to accumulate. Time in the other world is not the same as it is here. Time and space are properties of matter. Where there is no matter, there is no time. Sudman did not have an unconscious recovery period. She had a amazing experience in just 3 seconds. I too had a glimpse of the other world some 25 years ago. It lasted 3 or 4 seconds, but the information I downloaded in that short time was huge. I did not have a NDE. I was just taking a shower and fully awake, just distracted and relaxed.
However you look at it, the arguments presented by materialists to explain away the phenomenon of NDE are fallacious. The irrefutable evidence that OBE is real is the fact that some of these ND experiencers accurately report events that took place, not just in the operation room, where they were lying with flat-lined brain, but also outside it, confirmed by others. This evidence closes the case. There is nothing else to discuss. Out of body experience is real and is proven by the fact that the people experiencing it come back with verifiable information that they could not have in any other way other than through an OBE. Anyone who denies the independence of consciousness from brain has either not seen the mountain of evidences that is readily available on YouTube or they do not want to see them because they are willfully ignorant. Materialists love to give themselves pompous attributes such as being skeptic when they are fanatical believers in materialism. A skeptic is one who can question his own belief, otherwise anyone is skeptic. Everyone doubts the validity of others' beliefs.
***
Now, back to your questions! So far I spoke with certainty because facts are clear. From here on I am no longer certain. The following are just my opinions.
1. If I have a soul how does that fit in with evolution?
Think of the body as the hardware and the soul, as the software. If your computer gets damaged, it won't work. But the software is not affected. You can install that software in another computer and run the same application. The software is independent from the hardware.
2. How can neurological disorders fit in with souls?
With our software/hardware example, we can answer this question too. If there is a defect in your CPU, sound card, RAM, keyboard or any component of your PC, it works defectively. Hardware damage does not affect the software.
3. If there are souls, what is the purpose of the brain?
The above example answers this question too. You need a hardware to make your software work.
4. You make many large assumptions about God (e.g. God is love); where is your evidence for these assumptions?
I am merely reporting what the ND experiencers say. Many of them claim having met God and were bathed in a light that was pure and unconditional love. They say they never experienced such love in their life on earth. It also makes more sense for God to be love than a sadist despot like Allah.
5- If our purpose is to experience existence why are there so many other planets out there? What about planets with no life, what is their purpose?
The universe and life are products of evolution through natural selection. Most planets are inhabitable because they happen to be in the wrong place, either too close or to near to their sun and maybe too gaseous or toxic for life to evolve. No one put Earth in the Goldilocks' zone. It just happened to have everything needed for life to evolve. But the Darwinian Theory is only half of the story. There is more to evolution than the natural selection of the fittest. I will write about that at another time. However, the universe runs by very precise laws and constants. These laws are so fine-tuned that they could not have come to exist on their own. For example, the cosmological constant is so precise that chance does not explain it. The value of the cosmological constant, λ, is on the order of 10−122. (That is10 to the power of -122.) This value is so astronomically small that chance has to be ruled out. When combined with the fine tuning of other laws and constants it becomes clear that the laws of physics require an intelligent being.
Let us try to make some sense of this number. There are roughly 1080 atoms (10 to the power of 80) in the observable universe. (This is an estimate. The actual number could be 100 times more or 100 times less.) The observable universe is 92 billion light years across and contains hundreds of billions of galaxies, each with hundreds of billions of stars and zillions of planets and gazillion gasses. Let us say someone hides a marked atom somewhere in this universe and asks you to pick one atom randomly and if it happens to be that marked atom, you win a prize. What is the likelihood that you may stumble upon that particular atom by chance? It is in the order of 10-80 (10 to the power of -80.) That is 1 over a number with 80 zeros in front of it. the likelihood of getting the value of cosmological constant right is in the order of 10-122 (10 to the power of -122). It has 42 zeros more. It means the atom you are supposed to find by accident is somewhere in 1042 universes, each as big as this one we are living in. You need to find that marked atom by chance, and it could be in any of trillion trillion trillion million universes. Good luck.
Before you start, you might be interested to know that in one drop of water there are 2000 billion billion atoms of oxygen and 4000 billion billion atoms of hydrogen. Twenty drops is one gram of water.
And this is just the likelihood of getting the cosmological constant right. There are about three dozens of such constants in physics. For this universe to come to exist by chance, the value of all those constants must be precisely set right. If you still think that the universe could have been created by accident, you obviously still don't understand the meaning of 10-122 . Please read the above two paragraphs more slowly. These numbers are beyond our human experience and comprehension.
Now who is more superstitious? Those who think an intelligent being devised the laws of physics or those who believe everything came to exist by accident? Please do not assume that the above argument supports intelligent design. Intelligent design is a fallacy.
6- Are there other souls on other planets?
Anywhere there is life there is consciousness. The inhabitants of those habitable planets are not different from us. They are us. We have been around as long as God has been around, i.e. forever. We existed before the Earth was formed. We existed before the universe was created. We have been in many planets, looking very different in body, but with the same thoughts and awareness that we have now. The aliens are us. We are all spirit, aliens in this physical world. This could be your 80th reincarnation on Earth or your first. The Earth is one of infinite planets where we go to experience the material world.
Our soul can be in multiple places at the same time (see The Trinity for Dummies). It is like installing the same software on multiple computers. We are living simultaneously in many planets and even on earth in multiple bodies. There is no past and no future in the spirit world. Time does not exist where matter does not exist. Everything is present and present is eternity. So we are living all our infinite physical experiences simultaneously while having never left the heaven at all. The universe is a hologram. You and I are not here. We are operating our bodies by remote from a different dimension outside the perimeter of space-time quantum.
If you think that is strange, it is. All we have to do is look into the quantum universe to have an idea of a world that is not bound by time and space. Everything I said about consciousness can be observed in the quantum universe. The study of the properties of particles, which are balls of energy, can give us an idea of the properties of the spiritual world. Consciousness is structured energy. It cannot be explained with Newtonian physics, but it can be understood through quantum physics. Quantum physics is the science of the spiritual world.
Let me make an example. Let us say Martian scientists send a probe to the Earth that scoops up a bucket of water from a sea and take it back home. They then put the water under the microscope and find it is pullulating with life. They find planktons and all sorts of aquatic tiny creatures. They are surprised to find out that these creatures float. There are no lakes and oceans on Mars. So our little green neighbors conclude that these creatures float because they are tiny. But they are wrong. Any creature, whether small or big floats in water.
Our scientists observe that particles, pop in and out of space and time and conclude this must be the property of particles. They are making the same mistake that Martian scientists make. Everything, in an environment that is not bound by time and space, behaves in the same way that particles behave. So if particles can be in two places at the same time, consciousness can also be in two places at the same time. If particles can be entangled through large spaces, souls can do the same. Quantum physics does not give us information about just particles, but everything that is not made of matter, including the spiritual world.
7- Why there is so much suffering in the world?
This is a question someone asked me on Twitter. I will answer it here.
Suffering is needed to complete our physical experience. We come to this material world for a reason. In the spiritual world, everything is bliss. But there are things we need to learn or experience that can only be attained by immersing ourselves in the physical world, such as courage. To develop courage we must face fear and overcome it. Without fear courage is meaningless. There is no fear in heaven because there is no loss, injury or death in heaven. Consciousness is imperishable. I am sure everyone knows about the laws of conservation of energy and conservation of information. Consciousness is information in the form of structured energy. It cannot perish. We cannot believe in science when it suits us and ignore it when it doesn't. According to the law of conservation of information consciousness cannot be destroyed.
In this world we are given a perishable body and an instinct to preserve it. Because our body is mortal we experience fear. By defying fear we experience courage. Life is intended to be difficult and we choose the level of difficulty we would like to face here before coming. Let us say you want to play chess against a computer. If you think you are a good player, you set the level of difficulty higher. We did not come to this world to have fun. There is plenty of fun where we came from. We came here to face the challenges of life and win the game despite its hardships. You feel the exhilaration of victory when you go back home.
Home is where we came from. That is where we live. We have never left home. We are not here. This universe is a hologram. Our focus is here temporarily. How many times you were so focused on a thought or a movie that you had forgotten where you are? Another good example is when you sleep. Your body is in your bed while your mind is completely oblivious of where you are and is wandering somewhere else. This is perhaps a very good example. This world is only a dream. It seems so real, but when we wake up from this dream, it suddenly becomes clear we were just dreaming. Some dreams are pleasant and some are not. When we wake up, neither one matters.
If we could shift our focus to where we came from, we can experience heaven even when we are still in our physical bodies. This much I can say with some degree of certainty because it happened to me. I just can't repeat the experience.
There is suffering in this world. All creatures suffer. The suffering seems real. But once we shift our focus back to the spirit world this world seems like a game, and its suffering is what makes it exciting and challenging.