What is in it for Muslim Women?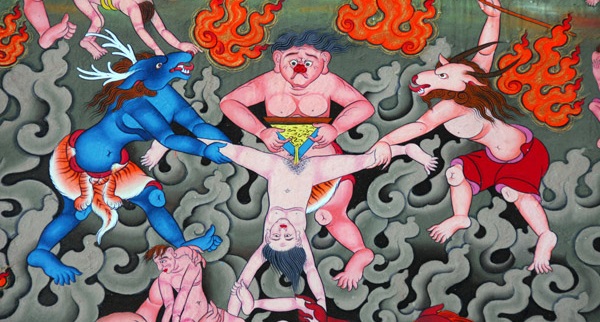 Muslims say the darnest things and although it is tragic that 1.5 billion humans think like it is also funny to read their comments.
I wrote the following in response to Shaida, a new commenter in this blog. But then I decided to publish it as an article. I had fun writing it and I hope you'll have fun reading it.
Shaida, replied to Sara, a women from Australia who asked "How can I divorce my Muslim husband?" Sara complained that after 14 years of marriage with an abusive Shiia man, she finds it difficult to get a divorce from him. She wrote, "All the sheiks here won't give me one [divorce] because it has to come from my husband, and what he says goes."
Sara has three kids and gets no support from her husband, but he wants to make her life a hell. He has vowed to never divorce her just to ruin her life and prevent her from finding love and happiness with another man.
Shaida wrote to console Sara. It is amazing to see how Muslims are so ignorant of their religion.  Here are a few samples of what she wrote and my replies to her.
This man was just playing with your heart a true Muslim man will love and respect his wife
This is not true.  A true Muslim man is required to beat his wife if he fears she may disobey him. A true Muslim man cannot love his wife because he is always looking out to find a second and a third and a fourth wife. Marital love is exclusive.  How can a Muslim man love multiple wives? A true Muslim man does not even understand the meaning of conjugal love.
In Islam women are regarded and treated like animal. You don't have to believe me. Just read what the greatest Islamic luminaries of all times,  al Ghazzali and Rumi said about women.  A true Muslim man cannot respect a woman when in his view she is nothing but an animal, deficient in intelligence and in faith. These pejorative adjectives are not mine. They are stated by none other than Muhammad himself.
Shaida wrote,
also in terms of divorce a Muslim woman can divorce her husband if she is able to prove that he did not fulfill his duties as a husband towards her.
A Muslim woman needs to prove her husband has failed his duties, and she needs an approval from a religious judge to divorce her husband. Then again, as Sara has found out, whatever he says goes.  But a Muslim man can simply utter divorce and he is divorced. It's that simple! He does not have to explain it to anyone. He does not even have to explain why he beats his wife. The Prophet said: A man will not be asked as to why he beats his wife. [Dawud, 11:2142]
 The guidelines are there to protect the dignity of women.
What guidance? Can any Muslim tell us what guidelines are there in Islam to protect the dignity of women? What dignity is left of her when she is beaten like an animal?  Even beating animals is forbidden by law in many civilized countries. And here the Quran, the ultimate book of guidance to mankind, which claims to be valid until the Day of Resurrection, allows men to beat their wives.  What dignity are we talking about?
The blinded Shaida continued,
As a woman i feel your pain to be in a loveless marriage to a man who used your ignorance of Islam to justify his own agenda.
The man used his knowledge of Islam to justify his agenda. Islam allows the man to abuse his wife.  What rights does a woman have in Islam that Sara has been deprived of and the mullahs have not told her? She has no rights. Her abusive husband is within his rights not to grant her the divorce and he is not doing anything that is not sanctioned by the sharia law.  Living in Australia, he fears beating her. Muslim women in Islamic countries get beaten and bruised and they have nowhere to turn except endure or commit suicide.
Shaida then encouraged Sara to "empower herself with the knowledge of Islam and the rights of women" [in Islam].   I can't agree more. I encourage all Muslim women to get the facts and see for themselves how they have been denied their basic human rights. If women know the truth they will not remain Muslim nor will they marry a Muslim man.
Shaida continued,
I admit it is not as easy for a Muslim woman to divorce a man.
Finally a word of truth from a Muslim!  Yes it is not easy for a Muslim woman to divorce her husband. And this does not raise a red flag for you? Doesn't it occur to you that some injustice is being done to women?  But it is way too easy for a man to divorce his wife.
I advice that you gain knowledge of the rights of women in islam my sister.
Well she came here to get that knowledge. What about you? Do you have any knowledge about how women are denigrated and abused in Islamic law? I doubt you do or you would not use the word "empowerment" as a Muslim woman. The laws of Islam do not empower women. They belittle them, cheapen them and dehumanize them.
Please do not listen to these idiotic people who are totally ignorant of the beauty of Islam.
"Beauty of Islam?" What beauty? Is wife beating beautiful in your opinion? Is marriage to children beautiful? How about female genital mutilation, honor killing, stoning, hand chopping, eye gauging, beheading? Are these beautiful? Is polygamy beautiful? Is wanton divorcing of one's wife beautiful? Is raiding non-Muslims, killing the men and enslaving and raping their women beautiful? Is imposing jizyah tax on non-Muslims beautiful? Is silencing any voice of dissent and killing anyone who criticizes Islam beautiful? Tell us what is beautiful in Islam?
The Christian law is not that great neither as if you want to divorce your partner you have to prove you have separated and spend years in court which is expensive and soul destroying.
Yes divorcing through courts is expensive and takes a long time. Do it the Islamic way. If you are a man just say divorce and it'd done. Can't be simpler than that! But be careful not to repeat it three times because if you say divorce trice your wife becomes haram to you until she marries another man and sleeps with him. Only then, after he has fully ravished her and if he does not decide to keep her, he can divorce her and you can remarry the mother of your children. How great!  If she is really a hot woman, good luck because the man may just keep her.  You can then  F yourself a million times for opening your mouth in rage and uttering the D word three times.
Some mullahs are very kind. They can help you for a fee. If you pay them they will marry your wife temporarily and have sex with her for a few weeks and because they are men of God they will divorce her so you can remarry her. How nice of them! What a divine wisdom!. How could an illiterate Arab devise such an amazing law on his own? .
If you are a woman, be patient dear sister.  The life in this world is transient. It's just a test.  Pray so inshaallah it will end for you soon and you will be set free. The real life begins after you die. Maybe Allah will reward you. In this world there is not much recourse for you. But cheer up, because in the next world you will get 72 well-endowed hunks. They will gang bang you and "enter" you like a tilt, from wherever you like, just as the Quran 2:223 says.
What? N o 72 hunks  for Muslim women? Okay I get it.  In Islam women are worth half of the men.  They inherit half of their brothers, their testimony is worth half of  a male witness. Also their value as human being is half.  In Saudi Arabia, where the Sharia is the law, if you kill a man by accident you pay 100,000 Riyals as qisas, but if you kill a woman by accident, you pay half of that.  So I assume that their reward in paradise must be also half.  Men get 72 virgins and  women 36 lovers. I think most women will be happy with 36 lovers.  No! They don't get 36?  What about seven? Not even seven? How many will she get? Can we settle for just one loving male companion who does not beat them? No? Not even one? Muhammad said the majority of women will go to hell because they are ungrateful to their husband [Bukhari, 1: 6: 301]. But I am talking about the few obedient ones who were grateful to their husband for beating them. What do they get?
Nothing!? Only their present lousy husband!? You mean obedient wives who go to paradise will end up with the same man with whom they were married, only this time to share him with six dozens of voluptuous hurs?  Is that the reward for being obedient?  It seems women in Islam are screwed in this world and screwed in the next. No pun intended!  No wonder Muslims feel so disappointed when they have daughters. Wouldn't you?
What about those women who never married and died virgin? What do they get? They did not have a husband to disobey and screw up their chance of going to paradise.  Nothing!? Oh dear!  The only fun in Allah's Paradise is sex and they are not going to get any action, while watching men having manage a soixante trios with 72 gorgeous perpetual virgins. There are no libraries, no theaters, no concerts, no museums or art galleries in Allah's paradise. There is no mention of the Internet either. Are there any shopping malls?    How does one kill one's boredom? Apart from having sex I mean?  Allah's paradise seems to be a large brothel. The only pleasure he and his messenger knew about concerns the stomach and the genital. You get plenty of debauchery and a lot of sex. Allah knows that Muslims have no brain. So anything that has to do with mental stimulation is excluded from his Paradise. But you can eat and screw as much as you want – kind of living like a pig. This makes me wonder why Muslims so hate pigs when their highest aspiration is  to live like them eternally.
It is not fair that woman get no action. Don't worry dear sis.  Your husband may get 72 virgins, but you will have a filed of of all sorts of vegetables.  No one can beat the veggies of paradise.
Good luck if he has time for you. With all those high bosom, black eyed, fair skin, forever young virgins, I doubt that after the first 100 years he will remember your name. Who can blame him?   How about becoming lesbian?  After all it is Paradise and as Muhammad described it, it seems that all the vices are permitted. Doesn't Allah promise men "boys of everlasting youth, whom, when thou seest, thou wouldst take for scattered pearls?" (Q. 76:19). Obviously there must be some Muslim men who salivate over this verse, or why would Allah promise that as a reward? I think it is disgusting, but what do I know? I am not a Muslim and excluded from their paradise.
P.S. If any Muslim thinks this article is vulgar, they should read their Quran. All this filth comes from your own book. I only illustrated it so you can digest it better and haply become ashamed of what you hold sacred and love so much.  Islam is not from God. It is the fantasy of a very sick man. There must be some limit to stupidity. Or is there?