The Faithfulness of the Skeptic
Skepticism and belief are situational. No one is always a skeptic or always a believer. Everyone believes in some things and is skeptic of other things. If you believe in a religion, you are skeptic of other religions. If you believe in God, you are skeptic of atheism and if you are an atheist you are skeptic of theism. It is important to be clear on this. No one has the monopoly on belief or on skepticism. It is deceptive to call a group of people skeptic, because everyone is skeptic of something and believer in something else.
In this article I will argue that the so called skeptics are just as faithful believers as the religious believers whom they so love to disparage. But let us first study the anatomy of faith. The following passage is from the skeptic website. http://www.skepdic.com/faith.html
"Faith is a non-rational belief in some proposition. A non-rational belief is one that is contrary to the sum of the evidence for that belief."
I think that is a fairly good definition of faith. Faith is belief in an irrational and non-provable proposition. Once a proposition is proven with logic or with evidence accepting it requires no faith because then it is knowledge.
Much of our knowledge is based on logic even though there is no evidence for them. Take the example of black holes. No one had heard of black holes when Einstein's General Relativity presupposed their existence. We still haven't seen a black hole, but we know they exist. Black holes are not based on faith. They are based on mathematical calculations. Math is a branch of logic. It is through the same process that we know about the dark matter, the dark energy, the worm holes, the big bang, the age of the universe, etc. There is no evidence for any of these. But we are certain of them because we trust our math. So, one way to learn the truth is through logic (math being a part of it). The absence of evidence is not the evidence of absence.
The other way is through evidence. Often we observe things that go against our logic. A thousand years ago, our ancestors could not make sense of meteorites. Stone falling from the sky did not fit in their worldview. They thought it is supernatural. Although this was not the correct answer, it would have been even more absurd to deny the phenomenon on the ground that they did not see it and could not explain it. It is not rational to deny things we don't understand. When we have evidence of something that defies our understanding, it means something is wrong with our understanding. Today we are not boggled by meteorites because we understand the sky.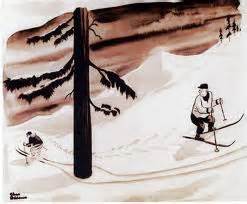 Quantum physics is one example of things we don't understand. Particles come into existence only when an observer looks at them and vanish into nothingness when the observer stops looking at them. They can be in multiple places simultaneously. They split and go through two doors at the same time and then rejoin. They can pair up and remain entangled even if they are separated and placed in two opposite sides of the universe. They can pop in and out of the existence, the past, the present and the future. None of these make sense. Yet no one denies them. These things are observable even though illogical.
Things are false only if they are neither logical nor observable. Here is one example. One of the commentators in this blog nicknamed Slave of Prophet wrote, (I am paraphrasing) who are you to accuse my prophet of pedophilia, mass murder, rape and other crimes, when Allah approved of him? Slave of Prophet exemplifies the logic of believers. In my book, Understanding Muhammad and Muslims, I explained this rationale in detail. A believer does not measure his belief against facts. He measure facts against his belief.
The great Imam Ghazali (1058 – 1111) said: "Where the claims of reason come into conflict with revelation, reason must yield to revelation." A similar thesis is presented by Paul in 1 Cor. 1:20-25 where he says "the foolishness of God is wiser than (the wisdom of) men". The statement "Credo quia absurdum" (I believe because it is absurd), often attributed to Tertullian, is based on this passage of Paul. In DCC 5 he said: "The Son of God died; it is by all means to be believed, because it is absurd." Fideism is founded upon the belief in absurdity and it is the position that has been adopted by all believers.
Blind faith is not the exclusive trait of religious people. Take the example of the following passage from the philosopher David Hume.
"When anyone tells me that he saw a dead man restored to life, I immediately consider with myself whether it be more probable that this person should either deceive or be deceived or that the fact which he relates should really have happened. I weigh the one miracle against the other and according to the superiority which I discover, I pronounce my decision. Always I reject the greater miracle. If the falsehood of his testimony would be more miraculous than the event which he relates, then and not till then, can he pretend to command my belief or opinion."
Hume and al Ghazzali belong to two different schools of thought and on the surface are opposite to each other. A closer look reveals that they say the same thing. Hume says he is not going to accept any argument if it sounds miraculous, i.e. it cannot be explained rationally. Based on that, we should reject quantum mechanics. There is nothing more weird and miraculous than QM. But we don't. If we don't understand it, it's because there is something we don't know about reality.
The theory that there is an afterlife cannot be demonstrated mathematically. But there is overwhelming evidence that it exists. In Why I Believe in God and the Afterlife Now, I posted several videos of verifiable cases that prove NDE is objective, real and not imagined.
A woman describes accurately what the operating team said and did and what surgical instruments they used when she was unconscious.
A child dies and meets his older sister when no one had told him that his mother had a miscarriage before he was born.
 A woman dies and floats around the building of the hospital. She sees a tennis shoe on the ledger of the third floor. The shoe is found in the same condition and place as she described it.
A heart attack patient is taken to hospital unconscious. He recognizes the nurse who took his denture and knows where she put it.
Several surgeons attest that their patients accurately described what the operating team said and did while they were clinically dead and could not have seen or heard even if they were awake since their eyes covered and their ears were plugged.
Two years old boy remembers that in his past life he was a pilot shot down by the Japanese. He names his ship, his airplane and his navy pal. His parents verify everything and find his friends war time friend who is his eighties.
A born blind woman claims she saw for the first time during her NDE.
A Russian scientist dissident is assassinated by KGB. In his NDE he sees and telepathically converses with the baby of his friend who was in distress. He learns the baby has a broken hip. Upon his return to life, he reports that to his friend. An X-Ray shows the hip of the baby is fractured. This man was pronounced dead and had been kept in the morgue for three days. He wakes up in the autopsy room, which shows David Hume's assumption that such phenomenon should be automatically dismissed as false is wrong.
A woman hears the mental prayer of her surgeon while he was operating on her. While out of body, she sees a ghost who informs her that her time to die has not come. Her sister who was praying for her in the chapel of the hospital sees the same ghost in the form of a real person who tells her that her sister is going to be okay.
A young woman is overrun by a truck and in the operation room she leaves her body, goes through the walls and meets her parents and grandmother in the waiting room.  She hears their conversation. Her father says he needs to go out to smoke. To her surprise she watches her grandmother who was not a smoker saying she needs one too. When she recovers her parents confirm everything she heard and saw.
A little girl remembers that in her previous life she was the daughter of the same parents. She remembers her death and says she had attended her own funeral. Since the death of their first child her parents had moved to a different town.  When they visit their first town the little girl goes ahead of them and despite the fact that the grave had no marker, she recognizes where her previous body had been buried.
These and countless other reports like these, coming from doctors and patients provide overwhelming evidence that NDE is true. We can't dismiss them as subjective or anecdotes. One who denies evidence is a faithful. None of these documented stories can be explained with the absurd logic that the oxygen deprived brain produces rich and ultra-realistic experiences. Explain this ridiculous theory in the light of evolution. Why would our survival require such experience in the moment of our death? Even if we accept this absurd theory, it does not explain the above verified cases. Verified means these experience are not hallucinations of a dying brain, but witnessed by others.
Materialism is a religion, based as much on faith as any religion. When materialists are presented with facts, they twist them and deny them with the same zealotry of any religious fanatic.
The cases of NDE are in the millions. They are told by children and adults, theists and atheists and people of all races and cultures. The site http://near-death.com/forum.html has a collection of thousands of NDE stories. Even if we dismiss them all, we can't dismiss the ones that have been verified . In addition there are NDEs that are shared by the relatives of the dying person. Dr. Raymond Moody has interviewed over 300 people who claim they participated in the NDE of their loved ones. Unless the deniers claim that there is a conspiracy of millions of people including children, adults, believers, atheists, doctors and patients, we have to accept that NDE is a fact and instead of hiding our heads in the sand, try to understand it. Maybe it is time for a paradigm shift. To say they can't be true because then we will have to believe in God is not a logical explanation.
No fact will have any impact on those who have already made their mind. Faith is a mental disease. Belief blinds. It makes no difference whether one is a religious believer or an atheistic believer. It is the nature of belief that blinds one to facts, not its content.
One does not become a skeptic by questioning other people's belief. Everybody does that. A skeptic is one who can question his own beliefs. This is the hallmark of the seers and the enlightened. Not every Tom, Dick and Harry can be a skeptic. Those who can only doubt other people's belief are often as faithful as the religious people they decry.
This documentary made by BBC is a good one about NDE and its effect on people