I Was Hungry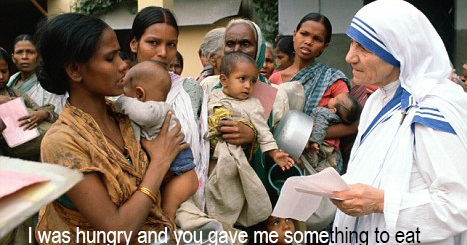 My friend Eric Allen Bell wrote a comment which I thought I should answer. I wrote the following and was going to send to him as an email. Then I changed my mind and decided to poste it as an article, haply it may help others too.
Here is what Eric wrote:
"There is a double standard, one that says Islam is intolerant (it is) but no one can say that Jesus was full of himself to insist he was the only way to "god" assuming a historical Jesus even existed."
Dear Eric
I was an atheist until a year and a half ago — 100%. About a year and a half ago I started watching testimonies of near death experiencers. Even though I was inclined to dismiss them, I was curious and when I watched a lot of them I became convinced these people are not lying and their experiences cannot be dismissed as hallucination. The evidence is overwhelming. I then watched and read hundreds of stories about NDE.
Eventually I came to accept that we survive our death, God is real and Jesus is indeed the Messiah. I read stories from atheists, Hindus, Muslims and everyone else. Many of these people saw Jesus in heaven. Many of these people say they were sent to hell and Jesus came down and saved them personally. I am talking of people who did not believe in Christianity.
None of that made any sense to me. In fact I was very much upset to know God is real and so are hell and heaven. The reason I was upset was that I reasoned no sane deity would design the world in such a way that some creatures should die and become food so others could survive. If I were God I would design a more compassionate world. I rejected God for his lack of compassion. How could I, a mortal be more compassionate than God, I reasoned. Therefore God cannot exist, I concluded.
But here were people from all cultures, beliefs, ages, reporting that in their NDE they met God and they met Jesus. Hindus don't meet their gods. Buddhists don't meet Buddha, Muslims don't meet Muhammad. Atheists are confused why they are still awake when their body is lying dead in front of them.
After becoming convinced NDE is a real phenomenon and not trick of the mind, I sat down and prayed for the first time in 20 years. I spoke to God. I said, okay God! I now know you exist. However, I want you to know that I don't want to be part of your world. I don't care about you, about your heaven nor about your hell. Just delete me. I don't share your values. I don't like the way you run your business and I just don't want to be part of it. I was happy thinking I will go to a dreamless sleep after I die. Now that it appears I will be around even after I die, I just don't want to be anymore. Please delete me. You have plenty of souls to manage. I don't want to be one of them. Since I don't care about your heaven I don't care about your hell. Are you this petty to send me to hell for telling you honestly I don't want to be a part of your pathetic universe?
I don't think I had ever prayed so fervently before. The thought that God is a pathological looney traumatized me. I was a lot happier to think there is no God than believing in a ruthless cynical God.
I received no answer. I went to bed but got no dreams. There was total silence. But I was not going to give up. I kept pestering and asking. I asked over a hundred times a day. My prayer was simple. "God, answer me or delete me." I shouted it when walking in woods. I wrote it on sands on beaches, incase God's hearing is impaired. But I got no answers.
Meanwhile, I kept reading more stories about NDE. Gradually, the answer came to me in bits and pieces. Now I know the mystery of existence. Why we come to this world; why is there suffering; what is expected from us. I still have more questions, but at least I got the answer to my early questions.
I also came to know Jesus was not full of himself. He is indeed The Way. However, it is not as Christians understand it. I now see the Bible as a gold mine. In the best gold mines there is more dirt than gold. One has to know gold to see it.
When Jesus says no one comes to God except through me, he is not being full of himself. He is talking about love. Jesus is love. That is the essence of Jesus. It is the same essence of God and the same essence of all of us. The way to God is through love. There is no other way.
I read NDE stories every night. I never came across a single person saying I was asked about my belief. Christians love to think they will be the only ones to go to heaven. You can say they are full of themselves. Jesus could not care less about what people believe. In fact he made this very clear.
"Not everyone who says to me, 'Lord, Lord,' will enter the kingdom of heaven, but only the one who does the will of my Father who is in heaven. Many will say to me on that day, 'Lord, Lord, did we not prophesy in your name and in your name drive out demons and in your name perform many miracles?' Then I will tell them plainly, 'I never knew you. Away from me, you evildoers!' (Matt: 7: 21-23)
The will of my Father!? And what could that be? He clarified that too. "Truly I tell you, whatever you did for one of the least of these brothers and sisters of mine, you did for me." (Matt 25: 40) This is the essence of the message of Christ. And that is the only way to heaven.
Howard Storm who was an atheist and was found by evil souls who tormented him in unimaginable ways says he was saved by Jesus. Jesus came down, held him by his shoulders and took him out. Storm says when they approached the gates of heaven he thought to himself this guy is making a mistake. I lived a very selfish life. I don't belong to paradise. At that moment, Jesus stopped. Looked into his eyes and said emphatically, "we don't make mistakes. You belong here."
Storm's story is interesting. He said not only he was an atheist, the only time he mentioned Jesus was as a curse. But here Jesus was emanating with such a love that Storm says, permeated every "atom" of his being.
Yes Jesus is real and he is the king of the heaven. But he does not give a damn what people believe. The Christians got this all wrong. Storm says he asked what religion is better, and Jesus said the one that brings you closer to God. Obviously he does not care about what we believe.
All these tales about God, Jesus, heaven, hell and angels sound so weird. I still have hard time with these things. Yet that is what people who have been there tell us. There is undeniable and ample evidence that NDE is not hallucination. I have written about that in great extent. So if NDE is true, then Jesus must also be true. Don't pay attention to the Bible. That book was written by believers and not everything in that book is true. Read the NDE stories. You will find thousands of them online, or watch them on youtube. I learned more from these stories than from all books I read in my whole life.
Wish you blessing
Ali
Please use faithfreedom.org for commenting.This site has some problem with comments as everything goes to spam box and i have to sieve through dozens of spams to retrieve the legitimate comments.
This article can be found here http://www.faithfreedom.org/i-was-hungry/