Is Muhammad Prophesized in the Bible?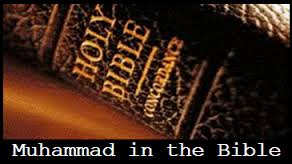 The claim that Muhammad is prophesied in the Bible is perhaps the most patent Islamic lie. However, Muslims have no choice. They have to believe in this lie because Muhammad claimed he is prophesied and  hence Muslims must find that prophesy.
Some Muslims claim that the reason we don't find any prophesy of Muhammad is because the Bible is corrupted.
Someone wrote to me asking if Muhammad is a false prophet how is it that he is mentioned in the Bible. I replied he isn't and he sent me this link where Muslims quote several verses from the Old and New Testaments claiming that they refer to Muhammad.
http://www.islam101.com/religions/christianity/mBible.htm
Although it is impossible to reply to all Muslims lies, because telling lies is easy for them and there is no limit to the amount of lies one can say I will reply to these.
Almighty God speaks to Moses in Book of Deuteronomy chapter 18 verse 18:

"I will raise them up a Prophet from among their brethren, like unto thee, and I will put my words in his mouth; and     he shall speak unto them all that I shall command him."

The Christians say that this prophecy refers to Jesus (pbuh) because Jesus (pbuh) was like Moses (pbuh). Moses   (pbuh) was a Jew, as well as Jesus (pbuh) was a Jew. Moses (pbuh) was a Prophet and Jesus (pbuh) was also a Prophet.

If these two are the only criteria for this prophecy to be fulfilled, then all the Prophets of the Bible who came after Moses (pbuh) such as Solomon, Isaiah, Ezekiel, Daniel, Hosea, Joel, Malachi, John the Baptist, etc. (pbut) will   fulfill this prophecy since all were Jews as well as prophets.

However, it is Prophet Muhammad (pbuh) who is like Moses (pbuh):

 Both had a father and a mother, while Jesus (pbuh) was born miraculously without any male intervention. [Mathew 1:18 and Luke 1:35 and also Al-Qur'an 3:42-47]
  Both were married and had children. Jesus (pbuh) according to the Bible did not marry nor had children.
  Both died natural deaths. Jesus (pbuh) has been raised up alive. (4:157-158)

Muhammad (pbuh) is from among the brethren of Moses (pbuh). Arabs are brethren of Jews. Abraham (pbuh) had two sons: Ishmail and Isaac (pbut). The Arabs are the descendants of Ishmail (pbuh) and the Jews are the descendants of Isaac (pbuh).

Words in the mouth:

Prophet Muhammad (pbuh) was unlettered and whatever revelations he received from Almighty God he repeated them verbatim.

"I will raise them up a Prophet from among their brethren, like unto thee, and will put my words in his mouth; and he shall speak unto them all that I shall command him."

[Deuteronomy 18:18]

   Both besides being Prophets were also kings i.e. they could inflict capital punishment. Jesus (pbuh) said,     "My kingdom is not of this world." (John 18:36).
  Both were accepted as Prophets by their people in their lifetime but Jesus (pbuh) was rejected by his
John chapter 1 verse 11 states, "He came unto his own, but his own received him not."
  Both brought new laws and new regulations for their people. Jesus (pbuh) according to the Bible did not bring   any new laws. (Mathew 5:17-18).
Let us see what the correct wordings of the Deuteronomy 18:18 are:
17 The Lord said to me: "What they say is good. 18 I will raise up for them a prophet like you from among their fellow Israelites, and I will put my words in his mouth. He will tell them everything I command him. https://www.biblegateway.com/passage/?search=Deuteronomy++18&version=NIV
"From among their brethren," means from among their own people. i.e the Jews. Jews did not consider Arabs as their brethren. They called them gentiles (pagans) and they were seen as the enemies of Jewish people. http://www.gotquestions.org/what-is-a-Gentile.html
The law in USA is that every four years Americans go to the polls and elect a president from one of their own (brethren). Now Canadians and Americans are known as brothers. You can find that statement in ever border crossing between Canada and USA. Does this mean that Americans can elect a Canadian as their president?  Do you see the absurdity of this claim?  Arabs and Jews never saw each other as brothers. The Bible speaks disparagingly of Ismael the alleged progenitor of Arabs and calls him a jackass, who will have his hand against all the people.
2- It is Mentioned in the book of Deuteronomy chapter 18:19

"And it shall come to pass, that whosoever will not harken unto my words which he shall speak in my name, I will require it of him."
Let us read the verses 19 and 20.
19 I myself will call to account anyone who does not listen to my words that the prophet speaks in my name. 20 But a prophet who presumes to speak in my name anything I have not commanded, or a prophet who speaks in the name of other gods, is to be put to death."
  Allah is not the God of the Jews. This is demonstrated by my friend Sam Shameoun here http://www.answering-islam.org/Shamoun/god.htm
If Jews were faithful to the instruction of their God, they would have put Muhammad to death. But they disobeyed God and instead of killing the impostor when he arrived at Yathrib they tried to make peace with him.  As the result of their disobedience to God they lost their lives, all of them were exterminated and humanity was plunged into mayhem and hundreds of millions of lives were lost.   Ecclesiastes is a time to heal and a time to kill, a time for peace and a time for war. We must fight evil. That is the whole purpose of our lives. That is how we evolve spiritually.
3-  Muhammad (pbuh) is prophesised in the book of Isaiah:

It is mentioned in the book of Isaiah chapter 29 verse 12:

"And the book is delivered to him that is not learned, saying, Read this, I pray thee: and he saith, I am not learned."

When Archangel Gabrail commanded Muhammad (pbuh) by saying Iqra – "Read", he replied, "I am not learned".
Let us see what this verse talks about.
11 For you this whole vision is nothing but words sealed in a scroll. And if you give the scroll to someone who can read, and say, "Read this, please," they will answer, "I can't; it is sealed." 12 Or if you give the scroll to someone who cannot read, and say, "Read this, please," they will answer, "I don't know how to read."
13 The Lord says: "These people come near to me with their mouth
    and honor me with their lips,
    but their hearts are far from me.
Their worship of me
    is based on merely human rules they have been taught.
This passage is talking about a misguided people who don't understand the scriptures. They refuse to read it or claim not to be able to read it. They are hypocrites who claim to honor God with their lips but their hearts are far from God.   So if Muslims think the verse is about Muhammad, I can't argue with them. Muhammad does fit the bill.
Muslims so much hate reading the Bible that even when they want to prove Muhammad is prophesized, they don't read the whole context to see the passage they quote actually makes their prophet a hypocrite and an enemy of God. What a pathetic folk!
4-   prophet Muhammad (pbuh) mentioned by name in the old testament:

Prophet Muhammad (pbuh) is mentioned by name in the Song of Solomon chapter 5 verse 16:

"Hikko Mamittakim we kullo Muhammadim Zehdoodeh wa Zehraee Bayna Jerusalem."

"His mouth is most sweet: yea, he is altogether lovely. This is my beloved, and this is my friend, O daughters of Jerusalem."

In the Hebrew language im is added for respect. Similarely im is added after the name of Prophet Muhammad   (pbuh) to make it Muhammadim. In English translation they have even translated the name of Prophet Muhammad     (pbuh) as "altogether lovely", but in the Old Testament in Hebrew, the name of Prophet Muhammad (pbuh) is yet present.
Although all the claims Muslims made about Muhammad being mentioned in the Bible are ridiculous, this one takes the cake. I have shown the stupidity of such claim in this article. Please read it as it is really laughable. http://alisina.org/?p=277
Prophet Muhammad (pbuh) in the New Testament:

Al-Qur'an Chapter 61 Verse 6:

"And remember, Jesus, the son of Mary, said, 'O Children of Israel! I am the messenger of Allah (sent) to you, confirming the Law (which came) before me and giving glad tidings of a messenger to come after me, whose name shall be Ahmed.' But when he came to them with clear signs, they said, 'This is evident sorcery!' "

All the prophecies mentioned in the Old Testament regarding Muhammad (pbuh) besides applying to the Jews also hold good for the Christians.
This is the claim Muhammad made. But Muslims have been unable to find any werse referring to Muhammad or Ahamad in the New Testament. So they present the following instead.
1-  John chapter 14 verse 16:

"And I will pray the Father, and he shall give you another Comforter, that he may abide with you forever."
So Jesus asked God to give us a Comforter. Was Muhammad a comforter? He was a mass murderer. He bragged I have become victorious through terror. How can a terrorist be a comforter? All one needs is two once of rational thinking to see Muhammad was the opposite of what Jesus promised.
 
2-   Gospel of John chapter 15 verse 26:

"But when the Comforter is come, whom I will send unto you from the Father, even the Spirit of truth, which  proceedeth from the Father, he shall testify of me."
How this apply to Muhammad who raided people at dawn, massacred unarmed men, raped their women and sold them as slaves? Did Muhammad testify of Jesus No! he even claimed that Jesus was never crucified and that someone resembling him was crucified in his place and that God deceived the people.
3-  Gospel of John chapter 16 verse 7:

"Nevertheless I tell you the truth; it is expedient for you that I go away: for if I go not away, the Comforter will not come unto you; but if I depart, I will send him unto you".

"Ahmed" or "Muhammad" meaning "the one who praises" or "the praised one" is almost the translation of the Greek word Periclytos. In the Gospel of John 14:16, 15:26, and 16:7. The word 'Comforter' is used in the English translation for the Greek word Paracletos which means advocate or a kind friend rather than a comforter.  

Paracletos is the warped reading for Periclytos. Jesus (pbuh) actually prophesised Ahmed by name. Even the Greek word Paraclete refers to the Prophet (pbuh) who is a mercy for all creatures.

Some Christians say that the Comforter mentioned in these prophecies refers to the Holy Sprit. They fail to realise that the prophecy clearly says that only if Jesus (pbuh) departs will the Comforter come. The Bible states that the

Holy Spirit was already present on earth before and during the time of Jesus (pbuh), in the womb of Elizabeth, and  again when Jesus (pbuh) was being baptised, etc. Hence this prophecy refers to none other than Prophet   Muhammad (pbuh).
Let us read the mentioned passages.
John 14: 15 "If you love me, keep my commands. 16 And I will ask the Father, and he will give you another advocate to help you and be with you forever— 17 the Spirit of truth. The world cannot accept him, because it neither sees him nor knows him. But you know him, for he lives with you and will be in you. 18 I will not leave you as orphans; I will come to you. 19 Before long, the world will not see me anymore, but you will see me. Because I live, you also will live. 20 On that day you will realize that I am in my Father, and you are in me, and I am in you. 21 Whoever has my commands and keeps them is the one who loves me. The one who loves me will be loved by my Father, and I too will love them and show myself to them."
First, Jesus said keep my command. Did Muhammad do that? Jesus said if you preach and are rejected dust your sandals before leaving. He wanted to emphasize to not take anything from those people even as gift. Muhammad raided and stole the entire wealth of countless towns. Jesus said, let he who has not committed sin throw the first stone. Muhammad ordered stoning. Jesus said my Kingdom is not of this world. He wanted to stress on the futility of the wealth of this world. Muhammad said, I have been promised the wealth of this world. Everything Muhammad did and said is opposite to what Jesus did and said.
The advocate that Jesus promised was to stay with us forever. This means he could not be a person in flesh. Muhammad died so he did not stay as he wished. The Holy Spirit was with Jesus while he was among us. For him to come back as Comforter Jesus had to return to his celestial Kingdom. Jesus said he lives with you and will be in you. So clearly he was not talking about a person with a physical body.
All one needs to see these claims are bogus is to read the verses, something Muslims never do.
John 15: 26 and 16:7 repeat the same things discussed above.
4-   Gospel of John chapter 16 verse 12-14:

"I have yet many things to say unto you, but ye cannot bear them now. Howbeit when he, the Spirit of truth is come, he will guide you unto all truth: for he shall not speak of himself; but whatsoever he shall hear, that shall he  speak: and he will shew you things to come. He shall glorify me".

The Sprit of Truth, spoken about in this prophecy referes to none other than Prophet Muhammad (pbuh)
That is an unproven and unfounded claim. Muhammad was no Spirit of Truth. He was a liar, an impostor. All the claims of Muslims are bogus. However, Jesus warned us that many false prophets will come who will claim to be from him and will seduce people.
15 "Watch out for false prophets. They come to you in sheep's clothing, but inwardly they are ferocious wolves. 16 By their fruit you will recognize them.

Now see how this applies to Muhammad perfectly. Didn't he behave like a ferocious wolf? Look at his fruits. Look at the miserable state of the Umma. Can you find any people more wretched than Muslims?
Edit 22 Jan 2015
Today I found this excellent debate on this subject
https://www.youtube.com/watch?v=bXrCkyYHs6M